Online Cake Shop & Cake Delivery in Hong Kong
Welcome to Baking Maniac! As an online cake shop based in Hong Kong, we are passionate and obsessive maniacs about what we do. We love creating edible art for birthdays and special occasions as well as seeing our desserts be a part of your memories. From the design stage and creation to cake delivery, we constantly work with high-quality standards and attention to detail in mind. We strive to provide the best possible customer experience while planning your special occasion in Hong Kong. We love being a part of your celebrations. Order cakes now!
Why Order Our Cakes Online in Hong Kong?
An Alchemy of Flavours, Texture and Cake Aesthetics
Whether you are after cupcakes, naked cakes, cake pops, cookies, or rice krispies, you can indulge in our vast collection of handcrafted confections, which come together in a play of more than 40 sophisticated flavours, distinct textures, and exquisite designs. We are armed with the most delectable cakes that deliver on both style and taste, ranging from nostalgic classics such as Chocolate Madness and Lemon Blueberry to modern favourites like S'mores and Bubble Tea! Order at our online shop and enjoy cake delivery in Hong Kong now!
Finest Selection of Healthy, Organic Ingredients
Every baking maniac deserves to devour every forkful of cake confections without having to worry about the quality of the ingredients. That's why we have handpicked the finest organic ingredients to bring palatable, elegantly pleasing and fresh cream cakes to your dining table. You no longer need to be mindful of harsh chemicals and additives because every confectionary treat you are ordering is made of organic ingredients in Hong Kong. Gluten-free and eggless options are also available in our online cake shop as well.
Custom-made Creations for Birthday Parties, Workshops, and Corporate Events
On the lookout for the most unique cake to mark a memorable occasion? Baking Maniac is here to make your dreams come true with its mastery baking styles and painstaking cake-crafting. Known for a myriad of confectionary creations — designer cupcakes, cupcake towers, buttercream cakes, tiered cakes, dessert tables — you name it, we personalise cakes for a variety of activities including cupcake jamming, corporate events, weddings, after-school and off-site workshops as well as birthday parties in Hong Kong. Already got something in mind? Contact our shop online to bring your cake to life! Cake delivery is available.
Premium Quality Confections and Cake Delivery Service in HK
The mere mention of Baking Maniac cakes is enough to tantalise your guests' tastebuds. Not only do our confections exude aesthetics, sophistication and individuality, but they are treasured for their fine quality and luxurious textures which cater to every sweet tooth in Hong Kong. Why eat your way around the city when cake delivery services are available in Hong Kong? Alternatively, you can pick up your cake at our shop. We always prioritise our customers to bring the ultimate cake experience. Order online now!
Read more
ABOUT US- PREMIUM ONLINE CAKE SHOP & BIRTHDAY CAKE DELIVERY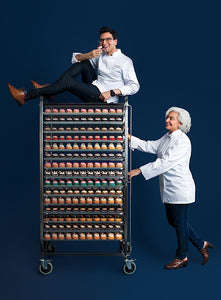 Baking Maniac - a mother and son duo, started from Ankrish's love of all things sweet.
At age 12, Ankrish emailed many hotels in HK, asking for a free internship alongside pastry chefs to learn the skills. However, he was rejected by all, due to his age. Hence Ankrish decided to try out new recipes himself after school and blog about his creations. Soon after, Ankrish unexpectedly got his first order during Christmas 2008 and from then word of mouth spread and he started getting more orders.
By age 16, Baking Maniac was all over the media, and from then there was no looking back. It became very busy to balance school life and Baking Maniac.
Read More >
Testimonials
I'm not sure what I love more - your exceptionally smooth client service, the gorgeous cake or the delicious taste! Yesterday you won a few loyal customers in our family and friends 👍🏼 thank you so much. 

IG
"Oreo cupcakes were amazing! They vanished in a matter of seconds. Can't wait to try your naked choc cake when I pick it up later this month. You are like my permanent go to person now...love it and its better than the shops by far!"

JS
"Your cakes, cupcakes, and pops were a HUGE hit!!  They came out beautiful and were absolutely delicious (they were demolished)"

AH
"The cake was spectacular! Everybody was so super wowed and kept asking me who made the cake! Thankyou so much for such a beautiful piece of art the birthday girl did not want to even cut it but didn't mind cutting more once she tasted the maltesers!!"

SM
"Thank you for Arabella's stunning cake! It was beyond what I could have imagined. The perfection and intricate details of the cake are like nothing I've seen before! I was tempted to keep it for myself as a centre piece at home! Not only was it stunning to look at, it was incredible to eat. I've never seen a cake be demolished as quickly as that!" 

CW
"We just wanted to let you know that everyone LOVED the cookies yesterday. Lots of oohing and aahing over them! We told everyone about you and said how great you'd been to work with."

DR
"We can't thank you enough for such a magical and special day!  Thank you for your first class service, amazing attention to detail and for making everything perfect. We are so impressed with you and the incredible business you have created. We will recommend you to everyone! 

LL
FAQ
HOW CAN I ORDER CAKES ONLINE?
Simply add the cake products to our online shopping cart and select a date and time that you would like them to be picked up or delivered to your door in Hong Kong. Remember to list any special instructions or messages you would like to include with your order. For customised creations, you can always message us to discuss your cake design first.
DO YOU HOST ANY BIRTHDAY PARTIES FOR FAMILIES?
Yes! We hold a range of birthday cake parties and baking workshops in Hong Kong, including Bake Off Party, Nailed it Party, Themed Birthday Party, Cake Jamming, Macaron Baking and more.