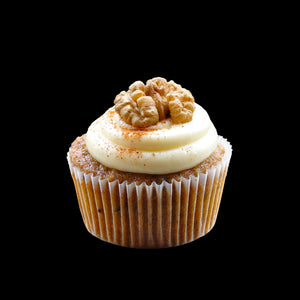 Carrot Cupcake — Moist carrot cupcake baked with spices, raisins and walnuts. Frosted with a delicious cream cheese frosting, topped with a walnut.
Ingredients:
Carrot cupcake with spices, raisins and walnuts, classic cream cheese frosting
Gluten, egg, and dairy (eggless, gluten-free and vegan Carrot cupcake is available!)
Available Sizes
Contact Us
Got a question about our Carrot Cupcake, ordering or cake delivery? Drop a message, and we will reply to you promptly. If you already have an idea in mind, you are welcome to
contact us
at
Bakers@bakingmaniachk.com
or WhatsAppp +852 66998093. We are glad to personalise the most special confectionary creation to make a sparkling moment for you!